Why Choose AGI Medical and Dr. Simoni For Your Digestive health?
Advanced Gastroenterology Inc. (or AGI for short) since its creation by Dr. Simoni, has been in the spot light for its patient satisfaction, use of latest technology, and providing the latest options available in diagnosis and treatment of digestive conditions.  Aside from several local newspaper interviews (1, 2, 3, 4, 5, 6, 7, 8, 9), excellent web ratings, consistently high remark testimonials, Dr. Simoni has been involved with the latest research and authored many scientific articles (10, 11, 12, 13, 14, 15).  The most cited  publication of Dr. Simoni is the TEMPO trial, a multi-center, randomized, crossover study that took place in several centers of excellence in United States to determine the efficacy of the latest treatment of reflux (TIF).  Dr. Simoni also holds the title of educator and mentor for many surgeons and gastroenterologist around the world with his seminars and educational videos for physicians (I, II, III, IV, V) on performing the TIF procedure.
AGI's Mission is to build patient trust and to be the catalyst for a healthier lifestyle through prevention, early detection and our innovative approach to GI care. We are, also, known for our friendly and gentle bedside manner, communication and responsiveness. For this reason, we keep our phone lines open throughout the lunch hour providing additional convenience to patients.
"When in my fellowship for my specialty, I was honored to work along side some of the best physicians I have ever met. They truly cared about their patients and sincerely wanted to do the best for them. I took this admirable example of ethical standard with me and have never forgotten it."  — Gilbert Simoni, MD, FACG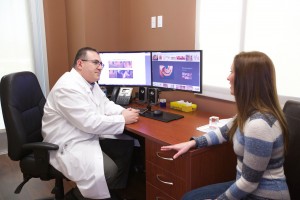 *  According to our patients
Gilbert Simoni, MD, FACG   
Dr. Simoni is board certified in both internal medicine and gastroenterology. He also founded Advanced GI, Inc. in 2006.

Click on the box below to book an appointment with Dr. Simoni:
Other experiences and honors:
– Past President of  Ventura County Medical  Association (VCMA)
– Board of Directors of Ventura County Medical Association (VCMA)
– Past division chief of gastroenterology at Los Robles Hospital
– Adviser and supporter of non-profit organization ECAN (Esophageal Cancer Action Network).
– Click here to see Dr. Simoni's CV: Curriculum Vitae (2020)
Local Hospital Affiliations:
Our office is affiliated with the following hospitals near Thousand Oaks, CA:
Los Robles Hospital and Medical Center
West Hills Hospital
Simi Valley Hospital
St. John's Regional Medical Center